Here's Ohio City Moto's take on best (and by that we mean coolest) movie motorcycles:
The Great Escape: No surprise here, but Steve McQueen was a real motorcyclist, and it shows. (Check out the Motorcycle Documentary On Any Sunday for even more of McQueen the motorcycle rider.) Though he wasn't allowed to make the movie's big jump on his Triumph TR-6 Trophy 650CC (The studio balked at having their star risk life and limb.) the other scenes of him outracing Nazis are all McQueen.
Akira: Yeah, we know it's not a real bike, but Akira's red cruiser/crotch rocket hybrid is what you want your Japanese outlaw anti-hero to ride. It's half Honda superbike and half kaiju robot, and it inspired a generation of high speed urban riders.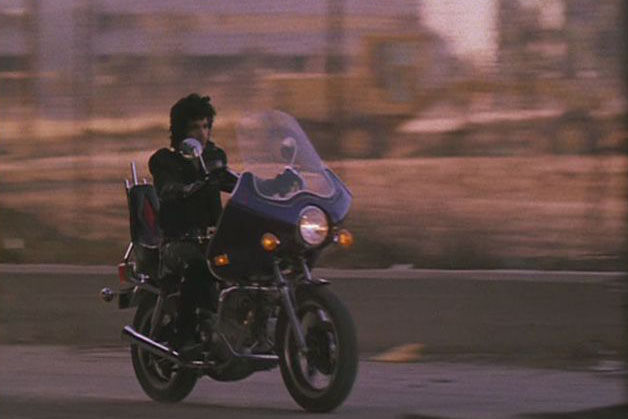 Purple Rain: In many ways Prince's 1981 Hondamatic Honda CB400A is everything we hate about eighties' motorcycles. It's an upright Japanese motorcycle poorly copying a Harley cruiser – ape hanger handle bars, an exaggerated king and queen seat, tall back rest. And it's outfitted with that huge Windjammer Vetter Fairing, which makes a rider feel like he or she's in a plastic bubble not out in the elements. But when you think about it, it's the perfect bike for Prince. Prince is a small guy with huge style. Of course he's going to ride a tiny 400 cc semi-automatic with larger- than – life customization.
The World's Fastest Indian: This is the only movie on this list that's about a non-fictional motorcyclist, Burt Munro, who at age 68 set three speed records at the Bonneville Salt Flats on a 47 year-old modified 1920 Indian motorcycle.  Munro, who, grew up on a farm in New Zealand, spent most of his life trying to go fast, and he did so without money, but with time, intelligence, obsession and hard work. He cast parts in tin cans; he made racing tires by using a knife to cut off the treads of cheaper tires. Homemade pistons that failed were called "Offerings to the god of speed." The movie is a love letter to single-minded eccentrism.
Knightriders: Jousting on motorcycles. No really. Jousts, on Motorcycles!!
1990: The Bronx Warriors (1990: I guerrieri del Bronx) Ok, this is actually a horrible movie, but the cheese factor and the fact that this Italian apocalyptic film is a blatant rip-off of not one but three Hollywood films (The Warriors, Escape from New York, and Road Warrior) make it must viewing. Chrome spikes and skulls are bolted onto the motorcycle gang's custom Moto Guzzi's.